About to start (
finally
) treating my room. Going DIY...
Rear corner traps are gonna be the hardest for me as it is a pretty tight room & I don't want to "invade" it even more. And my wall mount surrounds make it even more difficult to fully treat the corners.
Which of the above
(EDIT: Well, below since I goofed up making a "poll")
are likely to be most effective?
As I have to treat in "steps", which would you start with?
Pics not great, but will give you an idea of what I'm working with...
Media & lighting will be moved/replaced...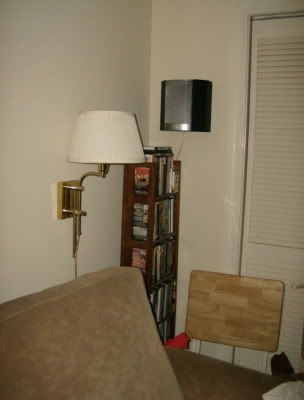 EDIT: Arghhh! Was gonna make this a "Poll" and accidentally skipped over "options" - then edit won't let me delete & start over...??? (No delete option???)
SO: Here are the options -
1. 2x2x6" Panels Straddling the corner/ceiling intersection
2. "Smaller" super chunks above & below surround speakers
3. Panels above, chunks below
4. Other corner suggestions???
5. Forget corners for now...just start w/ back wall & re-evaluate
(I do plan 2, maybe 3, 2x2x4" panels on back wall)