...but since there is not yet an OT/Other stuff forum, figured I would put this here.
Building new EC for my small room.
I'm addicted to using PVC when building things because A) It's inexpensive
B)Easy to implement when no real "workshop" C)I like the idea on an "open" design D)My dad used to sell PVC for a living, so I guess that it's some kind of blood connection...:goodvibes:
Planning for when I finally get a new TV - likely 42" FP, but could be 50" and possibly still a RP set...
Having XLS across the front, the horizontal center is presenting slight compromise in design - I want to raise the fronts slightly from where there are now (currently 16" stands) and still keep them on same plane.
Can't wall mount, so my EC is gonna have to have TV "tier" , and it's height is gonna be approx 34" off the ground.
Having sheet of 3/4 ply cut something like this:
A/B
will be 16" x 90". C will be 14" x 45"
Plan on using 8 : 1-1/2" SCH40 as supports between A & B. Plan on 16" supports.
A
being base housing components & such.
B
is speaker level.
C
will be TV tier, supported by 4 cuts of same PVC - obviously approx 14" tall to accommodate height of XLS center. 2 "rear" supports 30" spread & front supports will be centerd 10" spread straddling center XLS.
Does this make sense? Can you picture it?
Basically, equipment layout will still resemble this: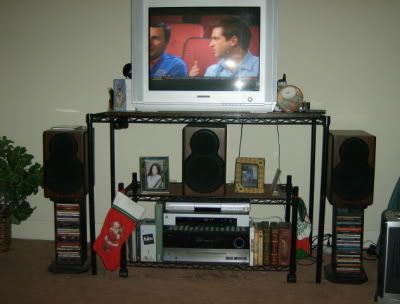 Guess why I'm posting is to ask, do you guys think my "supports" are enough to handle this? Weight & stability wise - especially the TV tier...
I have no small children, but pets. And the size will make the front wall - coming in from the door a little "tighter".
being this "large" - I plan to put on 8 casters to easily move for hooking up/upgrades, etc...
Am I stable enough???
Not sure if I'm gonna paint or stain plywood. Corners cut/rounded & edges rounded over. PVC likely to be painted a subtle reddish/brown shade to "accent" MNS XLS...
What ya think???
Of course, will post pics as things progress...