Recently the wife and I bought a new house on 20 acres. Horse property for her, and a new mancave for me. The house is a bit dated, so we're going to have to do a bit of remodelling before we can move it, and with a full basement, I was able to pick out where I wanted to put the new mancave.
Here is a layout of the space I've designed so far...
I've been modelling it. The room is long, giving me the ability to build a stage this time to hide the speakers behind the screenwall. I think I'll also been a baffle wall behind the screen as well.
Here is a view from the front of the room: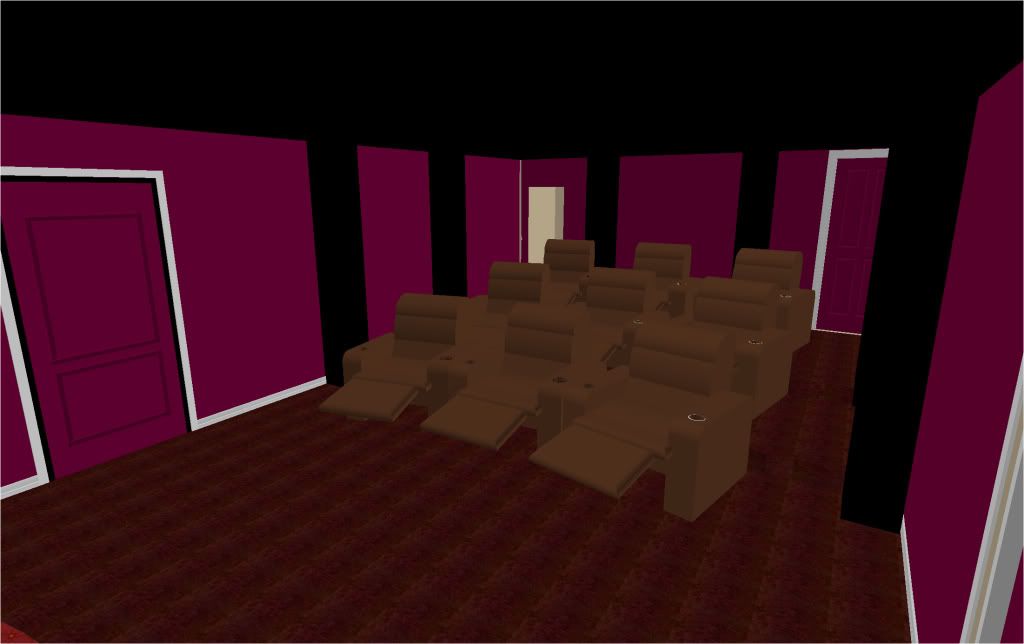 I'll be able to have 3 rows of 3 this time. Equipment rack will be along the back wall in the mechanical room behind the theater.
Here is a shot from the rear:
I'll be going with an accoustically transparent screen that can support 4k. Waiting for the next gen projectors to hit the market at a reasonable price, but want to have everything ready for when they do.
I'll be double sheetrocking with green glue to cut down on noise outside the room. I also plan to put sand in the platforms to damp them.
A few things I'm trying to decide is how much accoustical treatment to put on the walls. I'll put corner wedges in teh front 2 corners. above the subs. I'm trying with making the entire room fabric lined with OC703 behind it, but I don't want to overdamp the room either. The faux columns will hide the sho10's. Wondering if I should make those fabric wrapped and make them out of OC705 as well.
Also trying to decide what to do with lighting as well. Do I go with Can lights or sconces? What does everyone think?
I should be getting started in the next few weeks, and will update you all as I get going...