So I've got a 1994 FXSTC Softail custom that needs a little tlc. I don't have much money and I'm not a mechanic but I can handle the peripheral stuff. One of my big obstacles is that anything bought form an HD dealer is overpriced and I'm poor, so I would like to find some deals on things from ebay and elsewhere. The issue is that with all the variations out there I'm having a lot of trouble figuring out what fits my bike. I was hoping there would be some guys out there who can help me isolate either part numbers or maybe just help me locate some things. (of course if there are any guys in central ohio that just love tinkering with bikes and are dying to come up and help me do some things I wouldn't complain...:biglaugh:)
Here's a pic: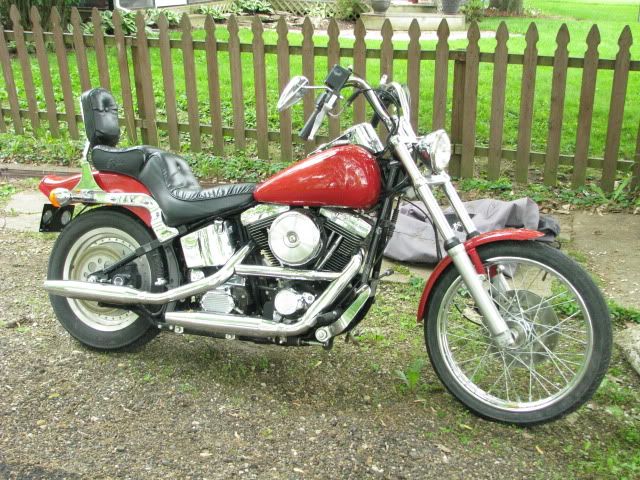 Here are the things it needs:
1. New seat and backrest. The seat has a tear in it, and the emblem on the back of the backrest is falling apart. The metal backing is rusting too.
2. foot pegs and shifter peg. They are worn and too short. I'm looking for something longer than the original as I have trouble fitting my big feet on them and getting my toe over to the shifter peg. Maybe rear brake pedal too, although it may be bent into a more desirable location. It's got some minor rust issues too, but it may come off.
3. Handlebars. This one isn't urgent, but they're bent a little.
4. The chrome bolts that hold everything to the handlebars, as well as securing the handle bars as well are rusted because the chrome had all been stripped out from multiple removals. Also, the chrome sheath looking things where the mirrors mount are rusty. The mirrors themselves are fine.
5. The high beam doesn't work, which I assume means the headlamp needs replaced. Correct me if I'm wrong here.
6. The front spoked wheel has some rust issues at the center hub. I'm not sure how to get in there and try to clean it up. I may need to look for a wheel at a junkyard.
5. I'd like to add saddlebags for storage, but that's an add-on and secondary to fixing the problems.
The bike was rebuilt and repainted, but details like this weren't taken care of. I suspect some of the surface rust was cleaned off some things to make it look pretty, but naturally as soon as any rain hit it they all rusted back up again because there was no chrome to protect it in some areas. Even in a garage it's been a problem. Also, the paint job wasn't expertly done and it may need some work as well, but I'm worried about the other stuff first. The engine only has 9600 miles on it and runs really great once I figured out some electrical issues it was having. I also am having trouble figuring out why the turn signals don't seem to flash correctly.
Any help that can be offered would be greatly appreciated.