Hello folks,
As promised a few weeks back, I put together a walkthrough on how to use the MiniDSP to EQ my MQ600s using OmniMic. This should also work just fine for RoomEQ Wizard, but the steps will be different for that software, but the MiniDSP steps are the same.
I'm taken screenshots along the way to explain things, but feel free to comment should something not make sense, and I can come back in and add detail where needed.
Let's get started. First, you'll want to get things setup. I'm using the latest version of Omnimic install on my laptop, and the calibration CD in my player. I'm using track 2, to do my measurements. I've shifted the FR to show 5-200hz using the little arrows at the bottom of the scale.
The first thing you want to do is take some averages across your seating positions. I took 3 in each of my middle row seats.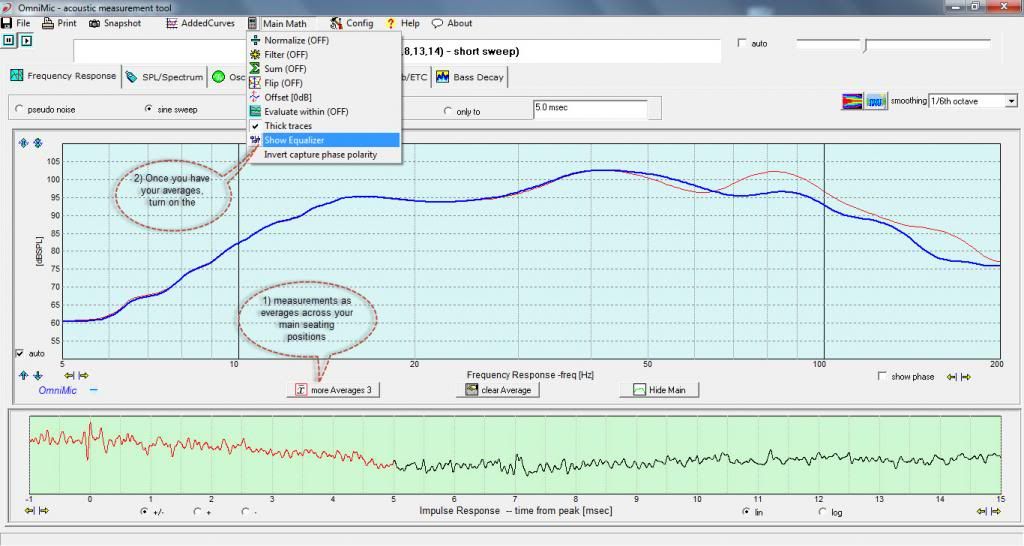 The red line represents the average of all they measurements. Omnimic only used averages to calcualte Filters so this is important. Another suggestion is once you get a new average, save that average reading in the file menu so you can use it for subsequent optimizations by loading that FR back in as an average (in the file menu as well)
Now that we have our average, let's open the Equalizer in the main math menu: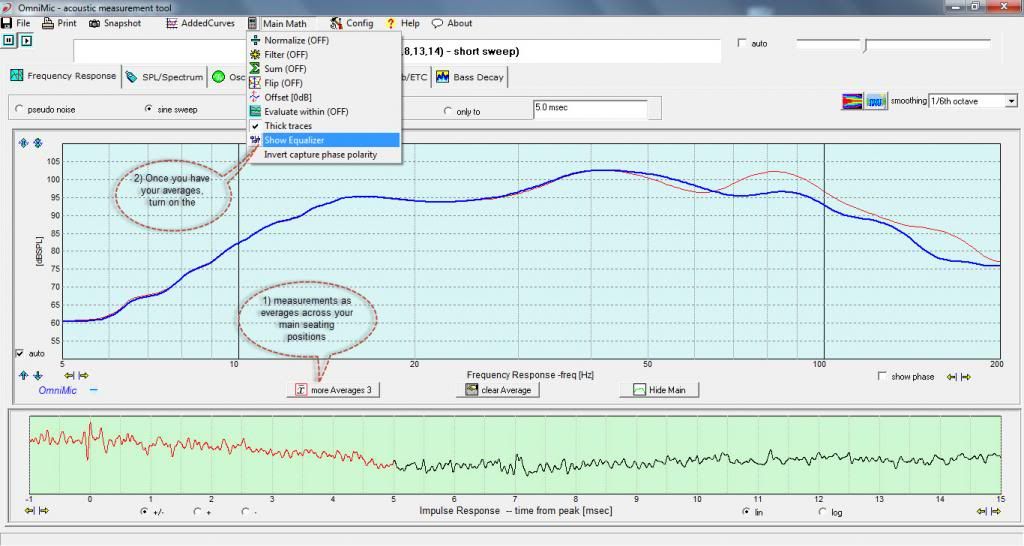 Then open up the full Parametric EQ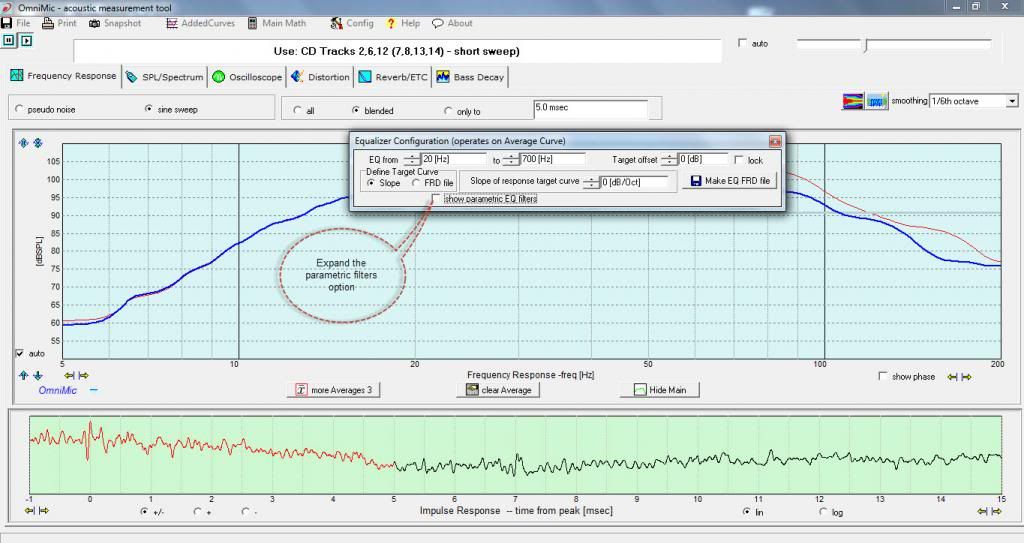 Now you can see the entire dialog.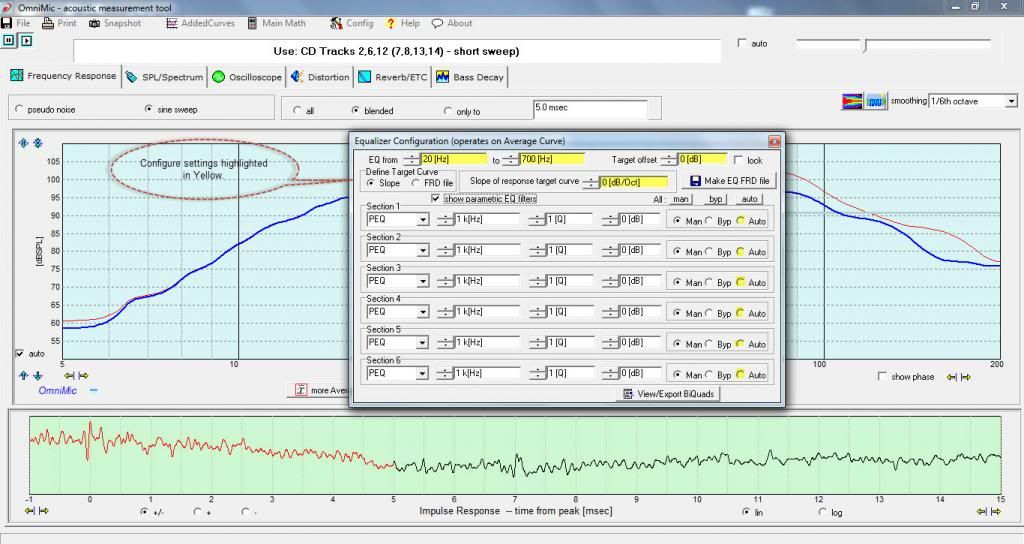 I've highlighted in yellow the fields you need to work with. You'll want to click the auto setting on all of the PEQ sections (the auto button sets them all). Decide the range you want to EQ. I picked 10-200. Once you click everything to auto, you see a grey bar show up as well. this is the target curve you'll create. The Target offset is good for pulling down the signal. It's easier to EQ down than to boost up. The slope of the response curve is useful to play with any sort of house curve you want. I tend to play with these till I get things where I want them. Then I hit optimize and the system starts thinking.
You can see in the below image now that it's been calculating the curve based on my parameters, and the yellow line indicates what the actual filters will do to the average response I took earlier: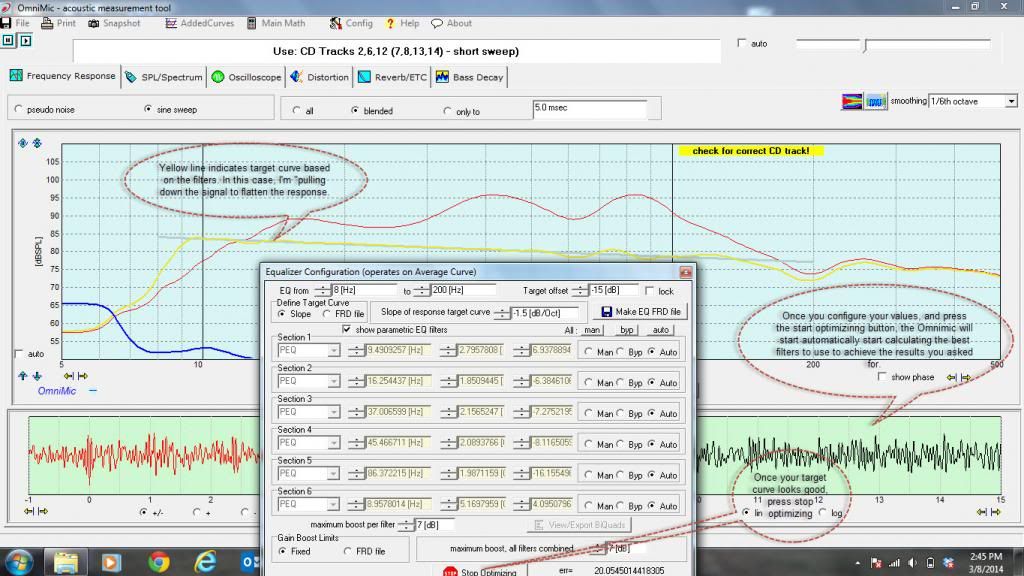 When it looks good enough for you, you can click stop optimizing.
How that you have a your desired target FR, it's time to export the Biquads so you can use them in MiniDSP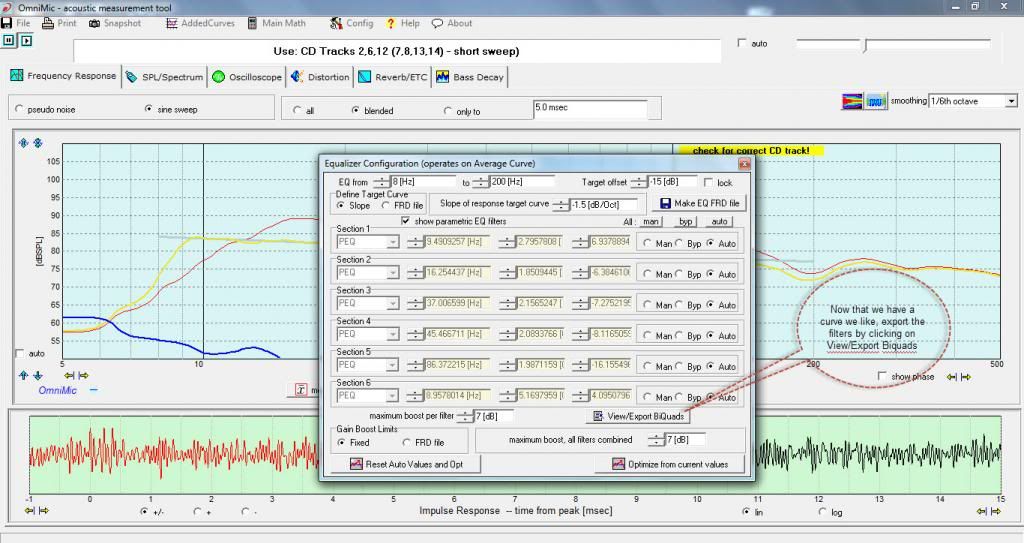 What is a biquad you ask? It's basically a type of linear filter function. See more here:
http://en.wikipedia.org/wiki/Biquad_...#Biquad_filter
Anyhow, we're going to export these 6 filters, and save it to a file you'll use in a minute: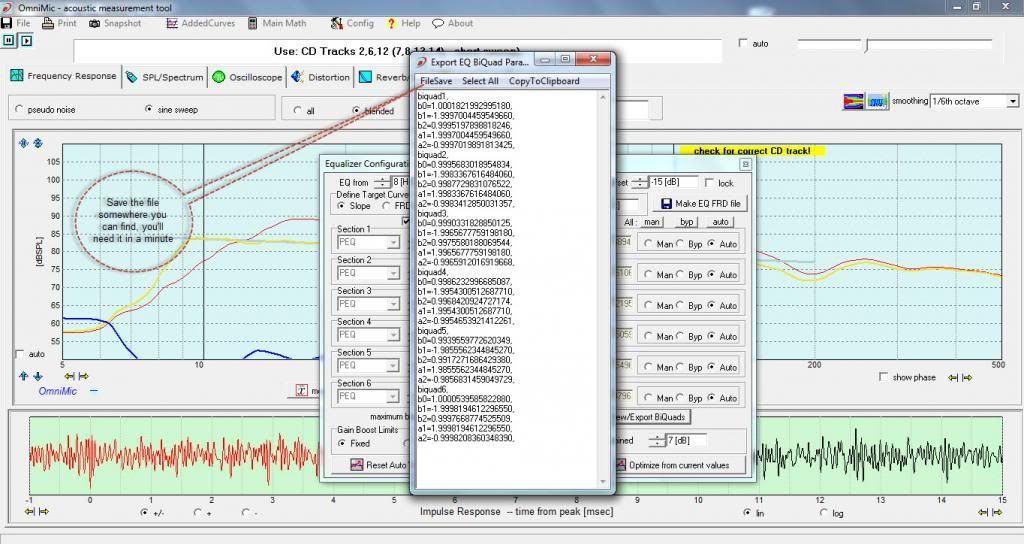 Now, let's lauch MiniDSP if you haven't already and navigate to the audio settings tab, and click on the big box labeled Parametric Filters. Click on the Import REW File button. Select the file you saved from Omnimic when you exported the Biquad.
Now that you've loaded your biquads, you'll see something like this: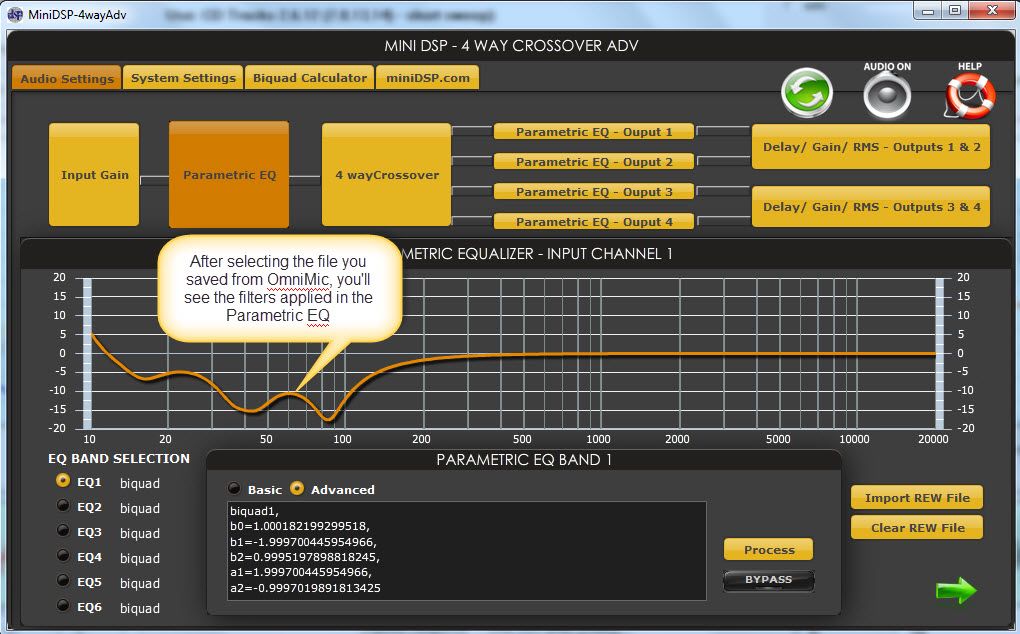 This is a reflection of the filters you are going to apply to the outgoing signal to the your subwoofers. Now, it's time to sync your filters to the MiniDSP. Disconnect your Minidsp from the powersource, and then plug the USB from the MiniDSP into you computer. Press the sync button: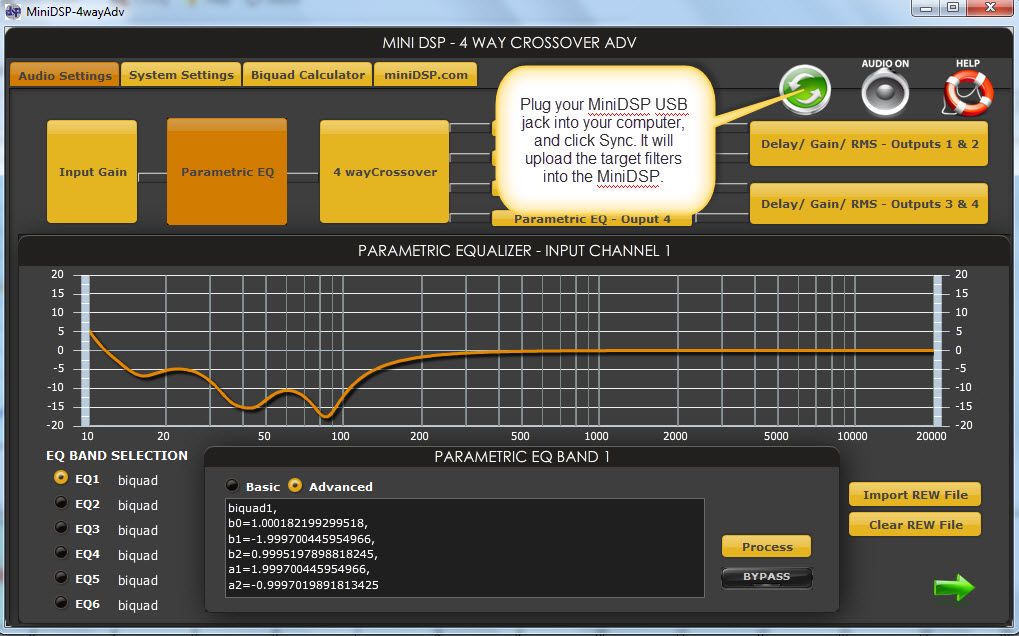 When it's done syncing, you'll see this: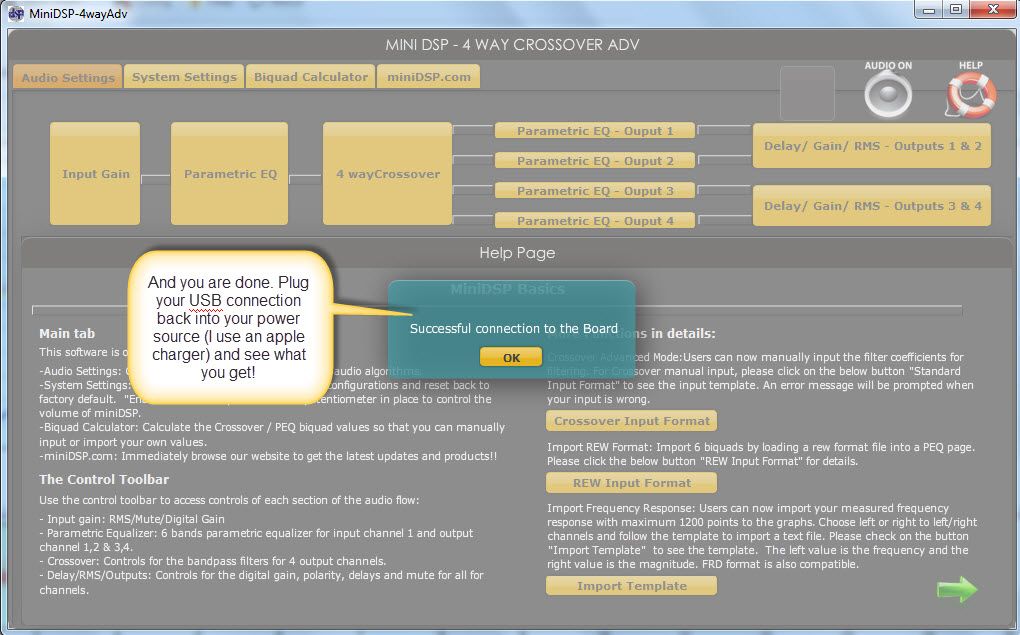 Congrats! you are done. Now, go fire Omnimic (or REW) back up and measure what you've got. Here's what I had: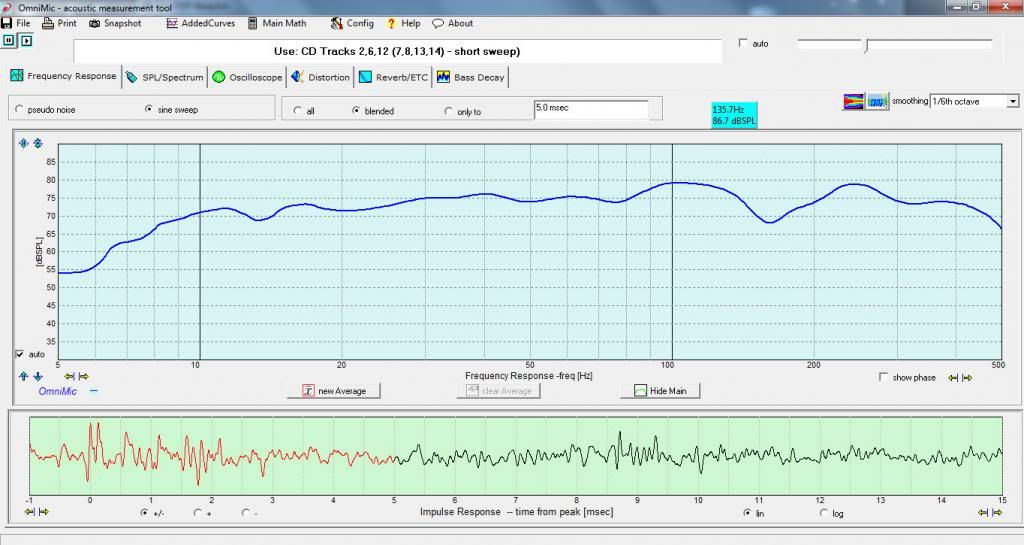 Now, I know what you are thinking. That's not a perfectly flat curve like Omnimic showed. Yes, there are still room interactions. That's where you can now load back up that average curve you saved, and reoptimize. Try running the optimizer, then stop it and flip the values to manual to hand adjust them. You can see the affects as you play with the various values. Have fun with it. Upload various filters, try it again, remeaure, and don't forget to listen to various curves to see what you like best. After all, this hobby is all about finding what sounds best to each of us.
I hope you found this useful. If you have questions, please post them and I'll try to answer them. I'm no expert, but I did spend some time trying to figure this stuff out. Happy to add more detail if something is unclear.
Happy EQ'ing.
-DG