MK is thinking about putting 8 CS-18.2's into his theater system. We are going to be offering all of our 18 inch packages as passive units for those who want to use pro-amps and outboard eq.
Think of it as DIY performance and pricing without all the work.
Here is the WIN-ISD graph for the SPL on MK's OCTO-PACK CS-18.2 This is with 1000 watts per unit: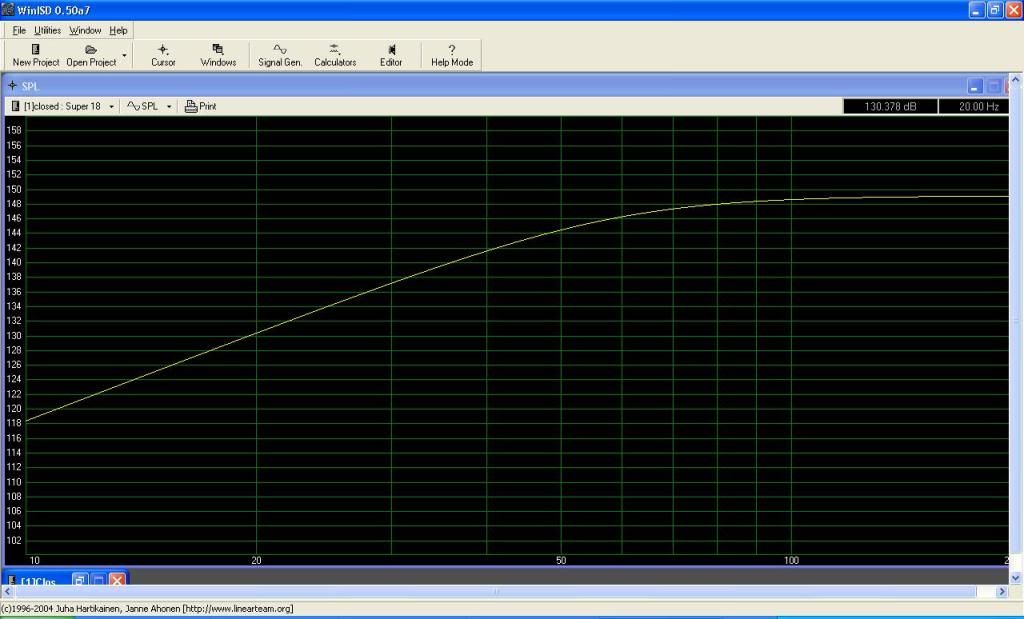 And here is the adjusted for TWO METER OUTDOOR MEASUREMENTS (all under 10 % THD - peak values will actually be 2 dB higher):
10 Hz: 112 dB
20 Hz: 124 dB
32 Hz: 132 dB
50 Hz: 139 dB
63 Hz: 141 dB
80 Hz: 142 dB
100 Hz: 143 dB
Group delay is under 6 MS down to 10 Hz.
These subs will retail for $1048 each, or $8384 for 10. Knock off the 10% discount for an order this size, and we are looking at a package at $7546.
If one runs the math on this, (and NOT using "peak numbers" like most others do), this sub package will deliver in excess of 136 dB average from 20 to 80 Hz.
Also .... please note, this is with no eq. applied.
For the real bassheads here ... this is the LMS-5400 tested in cooler temps by Ilkka (cooler temps add to SPL when measuring ...)
Each unit was in an appx. 4 cubic foot cabinet with a Crown CE-4000 amp rated at 3600 watts into 4 ohms.
The pink graph line from the 115 dB "sweep" is under 10 % THD down to 20 Hz. At 10 Hz, it was just under 25% THD. The 118 dB sweep had THD exceeding 25% from 35 Hz and lower, so I left that out.
At this level it delivered the following SPL for a single and adjusted for 8 LMS-5400's in ():
10 Hz: 92 dB (110 dB)
20 Hz: 105 dB (123 dB)
32 Hz: 114 dB (132 dB)
50 Hz: 115 dB (133 dB)
63 Hz: 115 dB (133 dB)
80 Hz: 115 dB (133 dB)
100 Hz: 116 dB (134 dB)
Anyone can check up on me by looking at this link to Ilkka's test: