I know I'm a HUGE tease for only posting a few pictures, but here it is: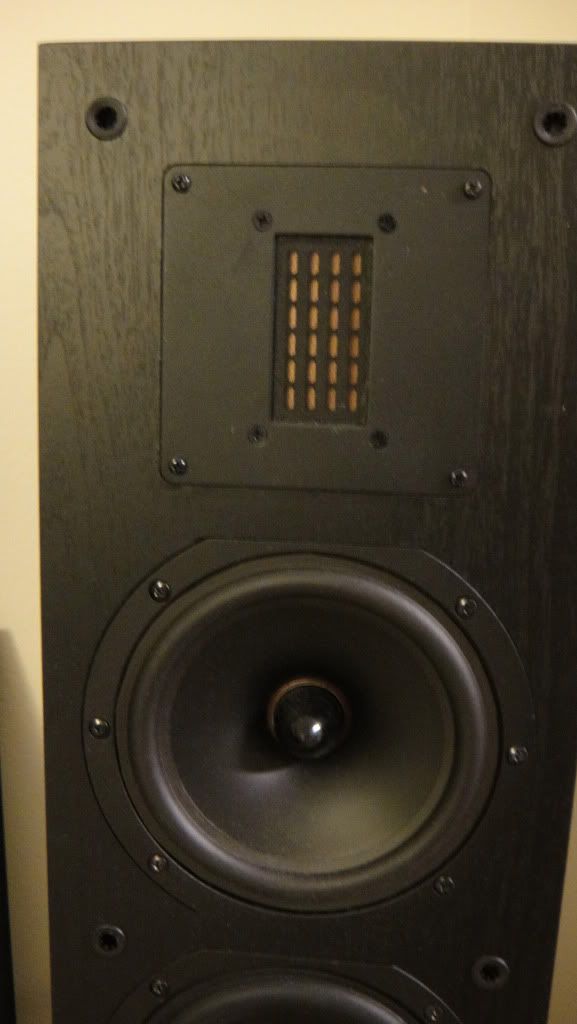 Jon has in my hands a prototype pair of ARX A5 tower speakers. Brief specs:
3 XBL2/splitgap motor 5.25" midwoofers.
1 dedicated midrange with non-moving phase plug and multiple copper shorting rings.
1 ARX tweeter.
1 ingenious crossover network that Jon has been fine tuning (by ear) since late 2010.
Tunable ARX cabinet bass reflex port (tweeter and mid are in separate sub-enclosure).
6-ohm nominal load (very benign and EASY to drive....NO 3-ohm dips or other anomalies).
Crossover designed from the outset with high current bi-amplification in mind.
They sound
massive
. The A5's sound ten feet tall and the soundstage is so wide that my wife has been repeatedly startled when watching movies in
stereo direct
by sounds she thought were coming from
BEHIND
her. Articulate and dynamic bass down to the low 40hz range in my 22x24ft listening space. They integrate perfectly with my eD A7s-450.
They've been driven so far by an ultra-cheap Yamaha surround receiver from ~2005 (read: bottom of the line from b*st buy) and by my Arcam AVR300 using 12awg pre-terminated speaker cable. While they respond superbly to high current amplification (like the toroidal power supply in my 120wpc X2 [in stereo] Arcam AVR300), they also sound darn impressive on low-current budget receivers and amplifiers.
Most importantly, they are
MUSICAL
. Music just comes to life on the A5's! The Rolling Stones 'Shine A Light' on Blu-Ray is simply
stunning
.
They are due in fall of 2011 (not long!)...I can verify that there isn't a tower speaker anywhere NEAR these in price/performance......
More to come.....;)